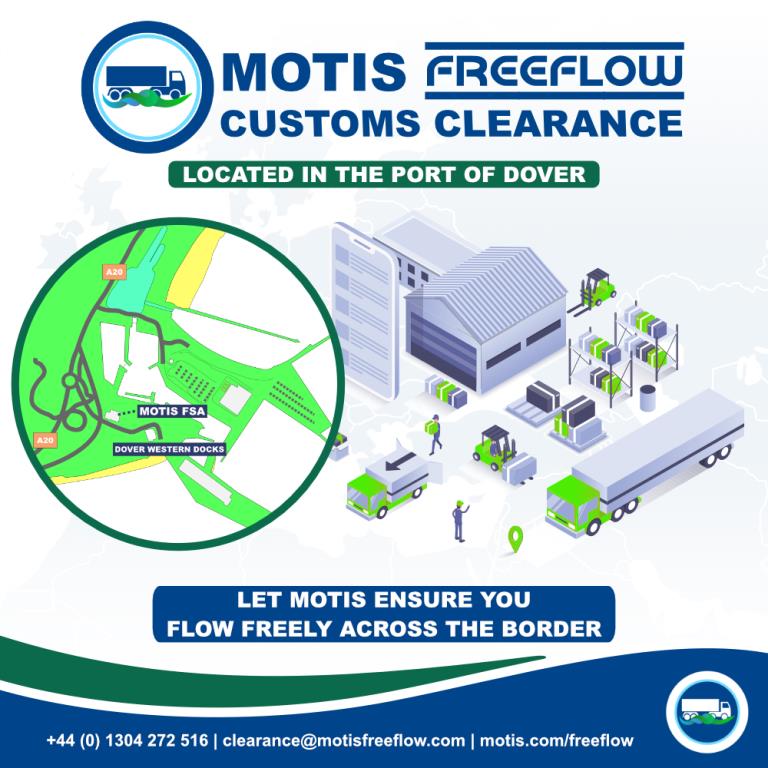 Motis FSA, Dover is a recognised Inland Border Facility, and the home of Freeflow Customs Clearance, which provides a diverse range of customs clearance services.
WHAT WE OFFER:
Export & Import Clearances
Transit Documents (T1 & T2)
Rapid Transit Document Release
ENS/ICS Safety & Security Declarations
GVMS/GMR Creation
Preferential Parking Rates for Freeflow Customers
Motis Freeflow provide market leading service at competitive pricing for all aspects of customs clearance. Motis FSA, Dover provides cargo handling and next day UK / Ireland Collection / Distribution, which is particularly useful for smaller consignments or deliveries to areas that your fleet have difficulty in serving. Using Dover for your Transhipment / Collection / Deliveries is an extremely efficient option both operationally and financially!
Our customers benefit from the convenient location in Dover Western Docks and excellent driver services on site. Open 24 hours a day, Motis Freight Clearance and Truck Stop Facility are the largest of their kind in the UK. With over 350 wide and secure parking spaces, café, showers, etc. your driver can take their legal rest break in total comfort and security.
Let Motis ensure you flow freely across the border
Back