For the attention of all of our Dover FSA Facility visitors
With Covid cases still on the rise, including in Dover and Kent, the measures to protect ourselves and each other still apply. Importantly, they are as effective with Omicron, even if the vaccines are proven to be less effective. These simple, yet essential, measures include:
Social distancing

Face coverings

Ventilation

Washing / Sanitising hands regularly
From 30th November 2021, the Government has made it a legal requirement to wear face coverings in shops and on public transport and at the Port, that includes PSB West, and Port Reception as well.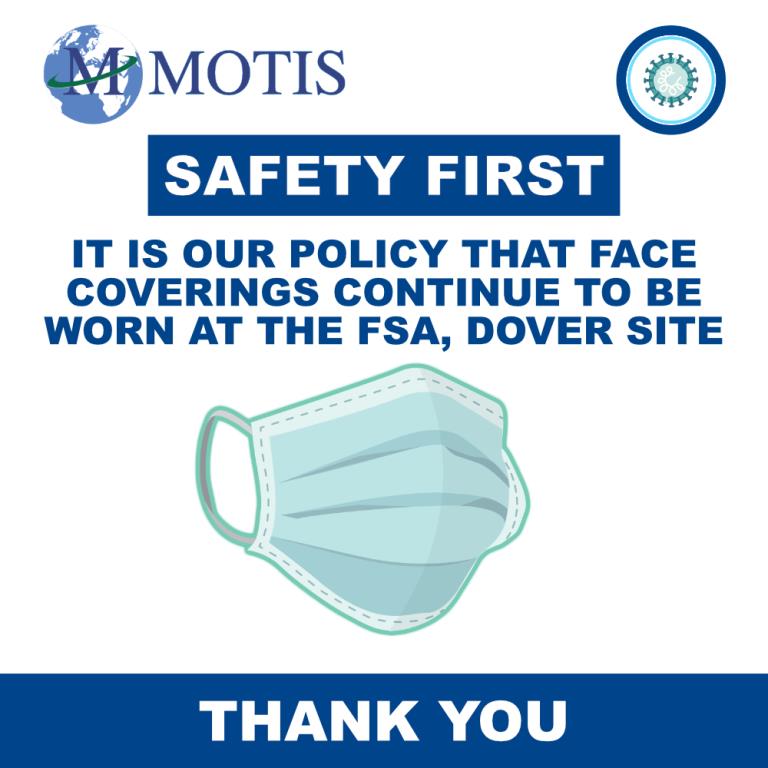 IT IS PORT OF DOVER POLICY THAT WEARING FACE COVERINGS IN COMMUNAL SETTINGS IN THE PORT IS A REQUIREMENT
MOTS FSA, DOVER HAS ADOPTED THESE REQUIREMENTS IN FULL AND ALL VISITORS TO THE SITE ARE EXPECTED TO FOLLOW THESE REQUIREMENTS IN ALL INDOOR PUBLIC AND COMMUNAL AREAS OF THE FACILITY.
It is still very important to test regularly, COVID-19 still remains a part of our lives and we must all continue to act responsibly wherever we are and whoever we are with.
We do not want to risk this Christmas going the same way as last year – let's do everything we can to protect ourselves, our colleagues and loved ones in the run up to Christmas.
Do the basics, they are a small inconvenience in the grand scheme of things, particularly if it means we can carry on with a degree of normality, something that would of itself have been a priceless Christmas gift last year.
Thank you for co-operating with these requirements.
Back