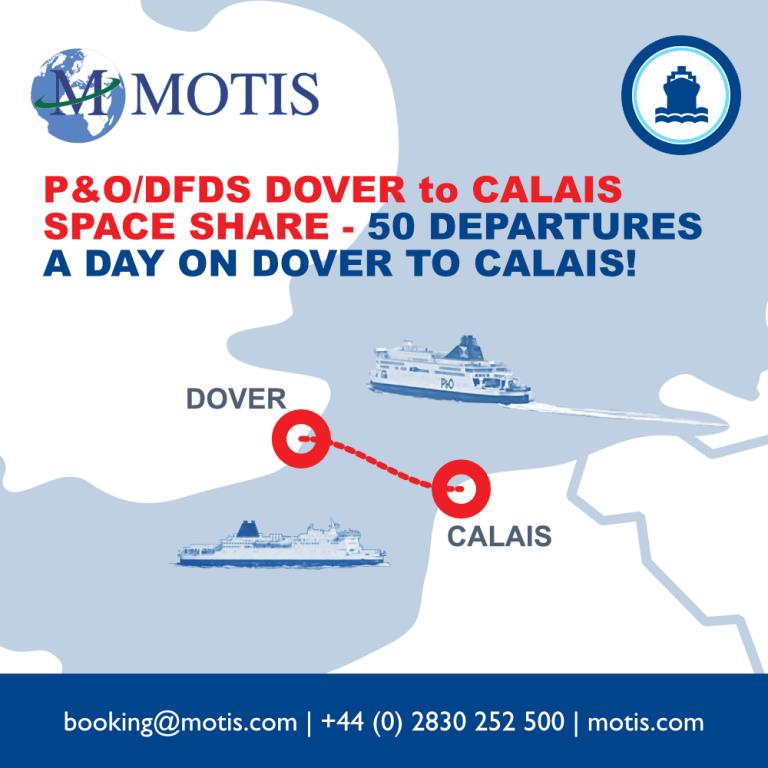 YOU CAN NOW CROSS THE CHANNEL EVERY 37 MINUTES
We are pleased to announce that this week P&O launch their space charter agreement service with DFDS on peak sailings (Monday to Friday) from Dover to Calais.

WHAT DOES IT MEAN FOR YOU?
You are now be able to board the first available DFDS or P&O Ferries sailing at the port of Dover. With the significant increase in sailings per day in each direction, creating a more efficient, effective and reliable service and giving you added flexibility.
HOW DOES IT WORK?
Drivers still check-in as normal through the shipping company booths at Dover and are allowed to embark on the next available ferry, this could be a DFDS or P&O Ferries vessel. Sailing schedules have been re-planned so you are able to get on a ferry every 37 minutes.
ADDED BENEFITS
Further more, if you book with Motis you will also receive a 2 Course meal onboard included with your ticket. This is an exclusive offer to Motis customers as we strive to ensure the most important component of the Transport industry, the Driver, is being well looked after.
When Motis customers check in with P&O in Dover/Calais they will be presented with a Meal Voucher (max 2 per vehicle), which can be redeemed for a 2 Course meal in the Route Master restaurants onboard all of the P&O Vessels operating on the Dover > Calais > Dover route.
To book or enquire please contact
Back